[et_pb_section fb_built="1″ admin_label="Testimonials" _builder_version="3.22.3″ background_image="https://naturalweightsolutions.com/wp-content/uploads/2019/01/nutritionist-19.png" background_size="contain" background_position="top_right" custom_padding="2vw||2vw||true|false"][et_pb_row custom_padding="24.1562px|0px|22px|0px|false|false" _builder_version="3.22.3″][et_pb_column type="4_4″ _builder_version="3.19.4″][et_pb_post_title meta="off" _builder_version="3.19.4″][/et_pb_post_title][et_pb_text _builder_version="3.19.4″]
Welcome to Your Membership Page!
 Webinar Recordings of the 6-Week Natural Weight Loss Program
6 Online Workshops that have been pre-recorded so you can watch it at your convenience.  However, it's recommended you commit to watching at least one video a week so you can follow along and maximize your results.  Block out 1 hour every week and be sure to put in your calendar! Dr. Alice will go into more depth with the steps needed to achieve success and it will take you from just wanting to live healthier to ACTUALLY LIVING HEALTHIER. Getting you in action with a plan to achieve those weight loss goals!
[/et_pb_text][/et_pb_column][/et_pb_row][et_pb_row _builder_version="3.22.3″][et_pb_column type="1_2″ _builder_version="3.19.4″][et_pb_video_slider _builder_version="3.19.4″][et_pb_video_slider_item src="https://naturalweightsolutions.com/wp-content/uploads/2019/03/Week-1-x.mp4″ image_src="https://naturalweightsolutions.com/wp-content/uploads/2019/03/Screen-Shot-2019-03-04-at-7.23.27-PM.png" _builder_version="3.19.4″ show_image_overlay="off"][/et_pb_video_slider_item][et_pb_video_slider_item src="https://naturalweightsolutions.com/wp-content/uploads/2019/03/Week-2.mp4″ src_webm="https://naturalweightsolutions.com/wp-content/uploads/2019/03/Week-2.mp4″ image_src="https://naturalweightsolutions.com/wp-content/uploads/2019/03/Screen-Shot-2019-03-11-at-6.29.59-PM.png" _builder_version="3.19.4″ show_image_overlay="off"][/et_pb_video_slider_item][et_pb_video_slider_item src="https://naturalweightsolutions.com/wp-content/uploads/2019/03/Week-3.mp4″ image_src="https://naturalweightsolutions.com/wp-content/uploads/2019/03/Screen-Shot-2019-03-11-at-6.30.09-PM.png" _builder_version="3.19.4″ show_image_overlay="off"][/et_pb_video_slider_item][/et_pb_video_slider][/et_pb_column][et_pb_column type="1_2″ _builder_version="3.19.4″][et_pb_video_slider _builder_version="3.19.4″][et_pb_video_slider_item src="https://naturalweightsolutions.com/wp-content/uploads/2019/03/Week-4.mp4″ image_src="https://naturalweightsolutions.com/wp-content/uploads/2019/03/Screen-Shot-2019-03-11-at-6.30.17-PM.png" _builder_version="3.19.4″ show_image_overlay="off"][/et_pb_video_slider_item][et_pb_video_slider_item src="https://naturalweightsolutions.com/wp-content/uploads/2019/04/Week-6.mp4″ image_src="https://naturalweightsolutions.com/wp-content/uploads/2019/04/Screen-Shot-2019-03-11-at-6.30.26-PM-1.png" _builder_version="3.19.4″ show_image_overlay="off"][/et_pb_video_slider_item][et_pb_video_slider_item src="https://naturalweightsolutions.com/wp-content/uploads/2019/04/Week-6-1.mp4″ image_src="https://naturalweightsolutions.com/wp-content/uploads/2019/04/Screen-Shot-2019-03-11-at-6.30.34-PM.png" _builder_version="3.19.4″ show_image_overlay="off"][/et_pb_video_slider_item][/et_pb_video_slider][/et_pb_column][/et_pb_row][et_pb_row custom_padding="24.1562px|0px|22px|0px|false|false" _builder_version="3.22.3″][et_pb_column type="4_4″ _builder_version="3.19.4″][et_pb_post_title title="off" meta="off" _builder_version="3.19.4″ custom_padding="161px|||||"][/et_pb_post_title][et_pb_text _builder_version="3.22.4″]
BONUS VIDEOS
[/et_pb_text][/et_pb_column][/et_pb_row][et_pb_row _builder_version="3.22.3″][et_pb_column type="1_2″ _builder_version="3.19.4″][et_pb_video_slider _builder_version="3.22.4″][et_pb_video_slider_item src="https://naturalweightsolutions.com/wp-content/uploads/2019/02/Self-Care.mp4″ image_src="https://naturalweightsolutions.com/wp-content/uploads/2019/02/Screen-Shot-2019-02-07-at-3.12.19-PM.png" _builder_version="3.19.4″ show_image_overlay="off"][/et_pb_video_slider_item][et_pb_video_slider_item src="https://naturalweightsolutions.com/wp-content/uploads/2019/02/Resolve-Conflicts-with-Communication.mp4″ image_src="https://naturalweightsolutions.com/wp-content/uploads/2019/02/Screen-Shot-2019-02-07-at-3.19.35-PM.png" _builder_version="3.19.4″ show_image_overlay="off"][/et_pb_video_slider_item][et_pb_video_slider_item src="https://amourdesoiwellness.files.wordpress.com/2022/02/a5bf4-breathing.mp4″ image_src="https://amourdesoiwellness.files.wordpress.com/2022/02/78eb6-screen-shot-2019-09-16-at-4.42.15-pm.png" _builder_version="3.22.4″ show_image_overlay="off"][/et_pb_video_slider_item][/et_pb_video_slider][/et_pb_column][et_pb_column type="1_2″ _builder_version="3.19.4″][/et_pb_column][/et_pb_row][/et_pb_section][et_pb_section fb_built="1″ admin_label="Consultation" _builder_version="3.22.3″ background_color="#fafafa" use_background_color_gradient="on" background_color_gradient_start="#fafafa" background_color_gradient_end="#ffffff"][et_pb_row custom_padding="0px|||||" custom_margin="|auto||109px||" padding_top_1="60px" padding_1_tablet="0px|||" padding_1_last_edited="on|tablet" _builder_version="3.22.3″ locked="off"][et_pb_column type="1_2″ _builder_version="3.0.47″][et_pb_text _builder_version="3.22.4″ custom_padding="1px|3px||218px||"]
10% Discount On All Supplements with Free Shipping On Orders Over $50
Click the Fullscript button to access the Online Dispensary
[/et_pb_text][/et_pb_column][et_pb_column type="1_2″ _builder_version="3.0.47″][et_pb_code _builder_version="3.19.4″]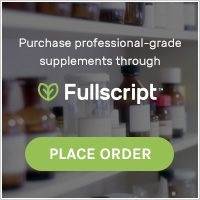 [/et_pb_code][/et_pb_column][/et_pb_row][/et_pb_section][et_pb_section fb_built="1″ _builder_version="3.22.3″][et_pb_row _builder_version="3.22.3″][et_pb_column type="1_2″ _builder_version="3.19.4″][et_pb_text _builder_version="3.19.4″ custom_padding="||0px|||"]
Nutrition Handouts 
Elimination Diet Shopping List
Annual Goal Setting Workshop Every January 
To be scheduled…
[/et_pb_text][/et_pb_column][et_pb_column type="1_2″ _builder_version="3.19.4″][et_pb_text _builder_version="3.19.4″]
[/et_pb_text][/et_pb_column][/et_pb_row][/et_pb_section]